A few words...
It seems that I've been really lucky during the Apple Expo! I've got my briefing from Peter Tamte himself (I was in charge of Bold's by Destineer's stand), and next to Freeverse's stand, a very sympathetic company, which make games for the Mac platform since the beginning !
I wanted to know more about it, because Freeverse is not much known in France... and it was really a pleasure, Ian Lynch Smith, the President of the company is a true gentleman, him, and Gareth Anderson, the producer and office manager of Freeverse :)
Interview of Ian LYNCH SMITH, President of Freeverse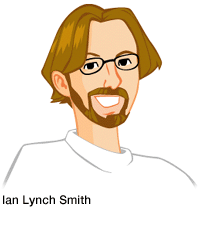 Freeverse is not much known in France, although your games are very nice ! Can you tell me a few words about your company ?
We hope that our games will be known very soon in France ! We're going to localize them in french and german. We primary make cards on board games, and many of american card games like
Hearts, Spades, Euchre and Pitch
are not known in other countries. Bridge is a complicated card game, but it's played here (in France NDLR),and I was surprised to see this ! I see it in the newspaper, they have chess and bridge. So, we are moving our bridge game in french fast. That for our primary games. We have lots of sorts of interesting other games : we've got a strategy game called
Deathground
, which did very well few years ago in US ; and also some arcade games such as one called
ByteMe!
, and that game is a sort of mix between Tetris and Othello.
Letís talk about WingNuts! it looks a little like one of my arcade games...
Itís a beautiful game, based on classical arcade games. Itís use Open GL, and it had a great soundtrack. Some people will think it looks like
Asteroids
, or
Time Pilot
. We took some good elements from most of those classical games and mixed them.
And when you shoot all the planes, you have the big boss!
Yes, itís funny! itís like in
Mario
, when you clean the level, you have the big boss!
So is WingNuts coming in France?
Very soon! And in french ! [so Ian pressed a command, and he made me listen to some of the french voices of WingNuts : a femaleís voice singing a song based on « Frère Jacques », very funny! and also the voice of the Baron, the big ennemy of WingNuts].
You are specialized in Macintosh...
Yes, we are! We work on Macís, we make Mac games first, and a lot of our games are Mac only, but weíve made some windows games!
Itís great that your company makes games for Mac first!
There are a few companies that actually make games for Mac! Most of the other companies just port them for Windows. We make games that only exist on the Mac, or exist on the Mac first, like
Nanosaur
(by
Pangea Softwares
, NDLR)! And the people whom have PCís ask « oh, whatís that game? » ! And for WingNuts, itís the same. It was release in the US for almost a year, and there were people that said « itís a great game, can I have it on my PC? ».
Your games are available in Europe, actually ?
No, but weíre gonna be working with
Virtual Programing
, whom are coming with some great titles the next few months. And I think
Softline
weíll be selling those titles in Europe, an weíll sell them in America.
So, a lot of games are coming for the Mac, itís a great thing !
Too many for the gameís companies ! because, two years ago, there was almost nothing, and now, theyíre so many ! I can announce that some cards games are coming soon, in a few weeks, such as
Burning Monkey Solitaire
, and itíll be wonderful, a hundred of jokes, very bad jokes !
Freeverse it's here!
kcegtc

a réagi le 17 Février 2012 à 12:33

zf6RHg <a href="http://dkevwglzqzeh.com/">dkevwglzqzeh</a>




hfufns

a réagi le 15 Février 2012 à 14:29

EHRfP4 , [url=http://rwtzysjrygor.com/]rwtzysjrygor[/url], [link=http://bvtynvvrnmxm.com/]bvtynvvrnmxm[/link], http://extxyipqdnfq.com/




dbucnb

a réagi le 15 Février 2012 à 09:36

CQji53 <a href="http://wknzthafpoel.com/">wknzthafpoel</a>




Cathleen

a réagi le 14 Février 2012 à 16:25

That's the best answer by far! Thanks for cntoributing.




tusdkx

a réagi le 13 Décembre 2011 à 16:18

xnyT5t , [url=http://whocqlebyuje.com/]whocqlebyuje[/url], [link=http://xpojmvpzutym.com/]xpojmvpzutym[/link], http://tpgcflannepl.com/




lfliean

a réagi le 12 Décembre 2011 à 12:42

ojOIP8 <a href="http://mscgcdmcezep.com/">mscgcdmcezep</a>




Matei

a réagi le 12 Décembre 2011 à 03:26

I can already tell that's gonna be super helfpul.




Carlynda

a réagi le 12 Décembre 2011 à 02:37

Good points all aronud. Truly appreciated.




uydufn

a réagi le 11 Décembre 2011 à 14:16

Q43HJD , [url=http://eqiqjiugavvq.com/]eqiqjiugavvq[/url], [link=http://rmxpjrynaqof.com/]rmxpjrynaqof[/link], http://ekvzfjiwynrs.com/




Gracelyn

a réagi le 11 Décembre 2011 à 06:05

Heck yeah bay-bee keep them cmonig!




Yex1Iw <a href="http://yrecgoyewomm.com/">yrecgoyewomm</a>




Karah

a réagi le 10 Décembre 2011 à 15:44

The paragon of understanding these iusess is right here!




Fifi_72 a réagi le 12 Avril 2003 à 04:51

Oups, plein de mois après, je vois ma faute de frappe ! je vais la corriger de ce clic ;)
Ça m'apprendra à me relire soigneusement :)




ZPedro a réagi le 19 Octobre 2002 à 18:57

"it's quiet", à la fin (c'est tranquille)? Je pense plutôt que c'est "is quite".




Fifi_72

a réagi le 18 Septembre 2002 à 10:25

Si c'est sur l'interview de Peter Tamte qu'il y a des erreurs d'anglais, je tiens juste à dire qu'il s'agit d'une transcription fidèle des paroles de l'interviewé ! mais je ne peux nier que mon anglais est loin d'être parfait, surtout à partir de 16h, les verbes irréguliers devenaient irréguliers ! :) Dans le cas où il y aurait de grosses boulettes, pas de pb, email-moi la correction !




Au fait c'est dans quel interview ou l'anglais est pasbon? Car moi c'est Macplay que j'ai fais!




Il a quoi mon english? il ce peut qu'il y ait des fautes! Dans ce cas email-les moi stp! Mais bon retranscrire à partir d'un enregistrement audio c'est pas évident! les erreurs elles, au fait, sont la plupart dans les questions ou dans les réponses? Merci




Kalomir

a réagi le 17 Septembre 2002 à 16:47

Pour mes amis de JeuxMac

1) bravo votre interview est recensée sur Insidemacgames !
2) pas bravo pour votre anglais... Si vous voulez, je vous aide à le remettre un peu d'aplomb. Un petit service pour vous remercier de vos bons offices




Wahoo le lien sur MacGamer.com :p

Ca va faire des hits ca ;)



Réagir à cet article